Available Software
Introduction
We now highly recommend conda to install your packages:
Conda. THIS IS THE FUTURE. We highly recommend this
We are testing Bioconda on Marvin on a per user basis, so you have total control over it.
1) Log in and from the command line type (only do this once!):
install-bioconda
2) Either log out and back in or type:
source ~/.bashrc
3) We strongly advise using environments: https://conda.io/docs/user-guide/tasks/manage-environments.html . You can do this in many ways. Please see the link for more details (here you can specifiy eact version etc ..). The easiest usage would be: e.g. conda create -n NAME_OF_ENV PACKAGE_TO_INSTALL (pick a package you are interested in from here: installing packages: https://bioconda.github.io/recipes.html ). Roary is a package name as an example.
conda create -n roary roary

conda activate roary

conda update roary

You are now ready to use this package.
Conda deactivate        to leave this environment. 


This works for me and a test user. But may fail for you, so be patient with us.
To list all the environments you have created:
conda info –envs

installing packages:
https://bioconda.github.io/recipes.html

module load approach
To see all the available software, the command to type is:
moduleav

This is a fast wrapper command for the underlying slower:
module available

Categorised Listing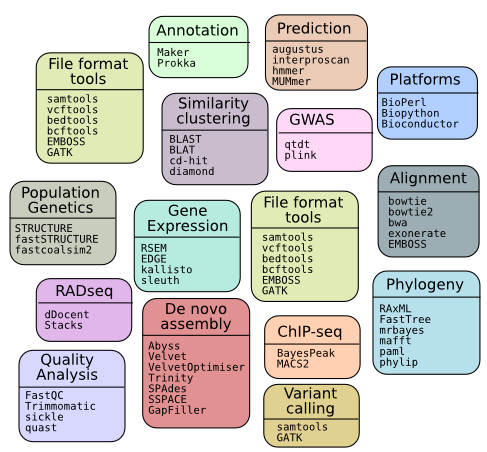 Raw Listing 07 Dec 2016
--------------------------------- /usr/local/Modules/versions -----------------------------------------------------
3.2.10

---------------------------- /usr/local/Modules/3.2.10/modulefiles ------------------------------------------------
 AdapterRemoval/gitv0_abe4a3e(default)         
ArtificialFastqGenerator/1.0.0(default)       AsperaConnect/3.6.2                           BAPS/6.0                                      
BUSCO/1.22                                    BamQC/gitv0_480c091                           BayeScEnv/1.0                                 
BayeScEnv/gitv0_beb60d2(default)              BayeScan/2.1(default)                         CAFE/3.1                                      
CEGMA/2.5(default)                            CRISP/2                                       CRISP/5                                       
CRISP/gitv0_7bfcd34(default)                  EIGENSOFT/6.0.1(default)                      EMBOSS/6.6.0(default)                         
FASTQC/0.11.5(default)                        FastML/3.1                                    FastML/gitv0_bb5d761                          
FastTree/2.1.8(default)                       GapFiller/v1-10                               GeneMark_ES/3.48(default)                     
HTSlib/1.3                                    HTSlib/1.3.1(default)                         HTSlib/gitv1_0de7fe5                          
MCR/v713                                      MUMmer/3.23                                   MUMmer/3.23b(default)                         
Mash/gitv0_2edc42                             Mash/v1.1.1(default)                          Mauve/2015-02-13                              
NGSToolsApp/2.1.5(default)                    OpenBLAS/0.2.14                               OpenBLAS/0.2.18                               
OpenBLAS/0.2.19(default)                      OrthoFinder/0.6.0                             PAGIT/1(default)                              
PEAR/gitv0_a37a84b(default)                   PEAT/gitv0_27981d7(default)                   PGAP/1.2.1                                    
PGDSpider/2.0.8.2(default)                    Prodigal/gitv0_004218f                        R/3.2.1(default)                              
R/3.2.3                                       R/3.3.1                                       RAxML/gitv0_4692545(default)                  
RSEM/1.2.25(default)                          RSEM/1.2.27                                   SPAdes/3.9.0(default)                         
SSPACE/3.0                                    STAR/2.4.2a(default)                          T-COFFEE/11.00.8                              
VarScan/2.3.7(default)                        VelvetOptimiser/2.2.5(default)                abacas/1.3.1(default)                         
abyss/1.9.0                                   act/v1                                        allpathslg/52488                              
angsd/gitv0_212d58                            angsd/gitv1_89d8fa9(default)                  arlequin/3.5.2(default)                       
artemis/16.0.0(default)                       assembly-stats/gitv0_003a372                  augustus/3.0.3                                
augustus/3.2.2(default)                       bamtools/gitv0_02c2be8(default)               bcftools/gitv0_47e811c                        
bedtools/2.23.0                               bedtools/2.25.0(default)                      bioawk/gitv0_5e8b41d(default)                 
blastScripts/1.0.0(default)                   blastScripts/1.0.1                            blastall/2.2.26(default)                      
blat/35                                       boost/1.60.0(default)                         boost/1.61.0                                  
bowtie/1.0.0                                  bowtie2/2.1.0(default)                        bowtie2/2.2.4                                 
bwa/0.7.12(default)                           bwa/0.7.7                                     bzip2/1.0.6                                   
capnproto/0.5.3                               cd-hit/gitv0_5acf038(default)                 clustalx/2.1                                  
crimap/2.504(default)                         cufflinks/2.2.1(default)                      dDocent/gitv0_7dea314                         
diamond/gitv0_39f2a71                         dot                                           ea-utils/gitv0_88c9ad5                        
ensembl-git-tools/gitv0_68ac669(default)      ensembl/gitv0_bb48912(default)                exonerate/2.2.0(default)                      
fastSTRUCTURE/1.0                             fastSTRUCTURE/190315(default)                 fastsimcoal2/2.5.2.21                         
fastsimcoal2/2.5.2.8(default)                 freebayes/gitv0_dbb6160                       gatk/3.4.0                                    
gatk/3.5.0                                    gatk/3.6.0(default)                           gcc/4.9.3                                     
geneid/1.4.4(default)                         general_script_tools/(default)                gnuparallel/20160422                          
gsea/2.2.2(default)                           gsl/2.1                                       gubbins/gitv0_fe094b0                         
gubbins/gitv1_8a12ae7(default)                gwas                                          harvest-tools/gitv0_ebf7ecc                   
hdf5/1.8.15-patch1(default)                   hdf5/1.8.16                                   hmmer/2.3.2                                   
hmmer/3.1b1                                   hmmer/3.1b2(default)                          interproscan/5.4-47.0(default)                
kallisto/git0_f0678a2                         lamarc/2.1.10(default)                        lpsolve/5.5.2.3                               
mafft/7.147(default)                          maker/2.31.8(default)                         masurca/2.3.2(default)                        
mcl/14-137(default)                           mdb/0.6(default)                              merlin/1.1.2(default)                         
module-info                                   modules                                       mpifast/gitrev2(default)                      
mrbayes/3.2.6                                 muscle/3.7                                    newick_utils/4.9.3                            
newick_utils/gitv0_614bf6c(default)           ngs/gitv0_aef5f50                             null                                          
openmpi/1.10.2                                openmpi/1.6.5                                 openmpi/2.0.0(default)                        
oraclejava/jdk1.8.0_74                        paml/4.7a(default)                            parsnp/gitv0_63bea13                          
pblat/1.6.0(default)                          perl/5.20.2(default)                          perl/5.24.0                                   
phylip/3.696(default)                         phyml/gitv0_0f6d745                           picard-tools/1.119                            
picard-tools/2.1.0                            picard-tools/2.1.1                            picard-tools/2.7.1(default)                   
prank-msa/gitv0_3e44771(default)              prokka/1.11                                   prokka/gitv1_8f07048(default)                 
prosite/1.79.1                                protobuf/gitv0_0622030                        psmc/gitv0_e5f7df5(default)                   
pyrad/gitv0_704ffbf                           python/2.7(default)                           python/2.7.12                                 
python/3.4                                    qtdt/2.6.1(default)                           quast/4.1                                     
rainbow/2.0.4                                 rapsearch/gitv0_95c866e(default)              readseq/2.1.30(default)                       
repeatmasker/4.0.5(default)                   rmblastn/2.2.28(default)                      rnammer/1.2(default)                          
roary/gitv0_c4d9b77(default)                  samtools/0.1.18                               samtools/0.1.19(default)                      
samtools/0.1.19b                              samtools/1.2                                  samtools/1.3.1                                
scalaBLAST/2.0(default)                       scipio/1.4.1(default)                         script_tools/1.0(default)                     
seqtk/gitv0_1a8319b(default)                  sickle/gitv0_f3d6ae3(default)                 signalp/4.1(default)                          
smalt/0.7.6(default)                          snap_alignment/1.0beta.17(default)            snap_hmm/11_29_2013(default)                  
snape-pooled/31(default)                      snippy/gitv0_848a62e                          snpcallphylo/0.7                              
sparsehash/gitv0_4cb9240                      sra-tools/gitv0_814d6f7(default)              srst2/gitv1_e30dd01(default)                  
srst2/gitv2_41b3f46                           stacks/1.35                                   stacks/1.37                                   
stacks/1.40(default)                          stacks/1.41                                   stampy/1.0.23(default)                        
structure/2.3.4(default)                      tRNAscan-SE/1.3.1(default)                    tabix/gitv0_1ae158a                           
tabtk/gitv0_741f3f0                           tophat/2.0.10(default)                        treemix/gitv0_23c15a2(default)                
trimmomatic/0.32                              trinity/2.2.0(default)                        trinity/20140717                              
use.own                                       vcflib/gitv0_e3ab177                          vcftools/0.1.11                               
vcftools/0.1.12a                              vcftools/gitv0_4fce995(default)               vdb/gitv0_f1497a1                             
velvet/1.2.10(default)                        velvet/gitv0_9adf09f                          vsearch/gitv0_174f810(default)